The long and short of it is: running a giveaway is a great way to grow your email list, get more followers on social media and generally get your brand name out there.
The question is: what is the best WordPress plugin to run a giveaway?
What We Look For In a Giveaway Plugin For WordPress
1. Email Entries
Email entries = the reader submits their email address to enter the contest.
The purpose of the contest is to generate as many leads as possible with the end goal of turning them into a paying customer.
For me, email leads are the number 1 priority because:
Consumers who purchase products through email spend 138% more than those that don't receive email offers.
Every dollar spent on email marketing has an ROI of $44.
You're 6 times more likely to get a click-through from an email than a tweet.
Email marketing drives more conversions than any other marketing channel, including search and social.
Email is so effective that it is worth a lot more to have an email address than a YouTube subscriber, Twitter follower or Facebook like.
What we want
​​​Email as the primary method for entries
2. Social Entries
Social Entries = the reader follows and/ or shares on social media to enter the competition.
A social share might not have the same long-term value as an email address, but it can be beneficial in raising awareness of the competition so that you can generate more entries from similar people or the competition may even go viral.
The prize for the competition has to be chosen carefully based upon our target market. If we had a paintball website, the prize may be a paintball gun and ammo.
Social entries would hopefully mean an influencer in the paintball community would share the competition as a method of entry and create a viral effect that would see many more entries from their followers.
It is crucial that the plugin gives us the power to choose which social media options we want to enable as entry methods.
What we want
Social entry via:
Facebook like
Facebook share
Instagram follow
Twitter follow
Twitter share
3. Refer a Friend
Refer a friend = each entrant gets an additional chance of winning when someone they refer enters the competition.
Refer a friend is built in virality.
The issue with sharing competitions in the past has been that the more you share, the smaller your chance of winning becomes.
People are disincentivized from sharing.
Refer a friend flips this on its head. There is now an incentive for sharing as each time someone enters the competition through your referral URL, you will get an additional entry.
The more people you sign up, the more chance you have of winning.
This will hopefully push the viral coefficient above 1.
The viral coefficient "is the number of new users an existing user generates."
If 10 users generate 20 new users the viral coefficient = 2.
If 10 users generate 5 new users the viral coefficient = 0.5.
A small difference in the viral coefficient can have a huge impact, as you can see in the graph below.
If you can use the refer a friend feature to encourage each entrant to generate > 1.0 entrant then the number of entries will grow exponentially.
What we want
Each entrant receives an additional chance of winning when the encourage a friend to enter
4. End Date
End date = a clear and visible date that shows when the competition will close.
I'm a lazy person. At university, I would start assignments the day before they were due.
I need a little bit of pressure to be productive.
Turns out I'm not the only one. Parkinson's law states that "work expands to fill the time available". Basically, if I have a 24 hour deadline, I will complete the task within 24 hours. If I have a seven day deadline, I will spend seven days working on that task.
So, the first purpose of an end date is to put pressure on people to actually complete their application
Having a clear end date for a contest adds a sense of scarcity.
Readers know that they only have until a certain time to enter. It may also encourage more people to enter if it is a short end date because they know that the winner will be announced quickly.
5. Price
Like we will say over and over again throughout this series, price is important.
There are lots of free WordPress plugins out there that are great, and there are lots of paid plugins that are bang average.
We don't mind paying for stuff, but most important thing is the return on investment. If I offered you 5,000 targeted email subscribers and 3,000 new followers on social channels you would probably bite my hand off for them – or at least give me a decent wad of cash.
This is essentially what we are achieving with a successful giveaway.
The price of the giveaway includes the price of the plugin and the price of the prize (plus any ads you want to place to promote it).
To calculate the ROI, assign a value to each email subscriber based upon what your current email list:
ROI ($) = (No. of subscribers x Value per subscriber) – (Cost of plugin + cost of prize + cost of advertising)
If we break down each element, the value per subscriber, cost of advertising and cost of prize will not be influenced by the plugin.
This leaves the cost of the plugin and the number of subscribers (based on features available) as the factors that will determine your ROI.
What we want
The plugin with the highest ROI
The Best WordPress Plugins for Giveaways
Pick Giveaway Winner
Pick Giveaway Winner is the simplest of these plugins, and probably the least effective.
The purpose of a giveaway is to grow your social media platforms or to grow your email list. Pick Giveaway Winner does neither of these things.
The plugin works by selecting a winner at random from the comments in a blog post.No gimmicks. no fancy features. It simply chooses a winner at random from the comments.
It does this well, but there is very little upside to this. Return on investment is extremely important in everything we do.
Think about it. The plugin is free but to get a decent amount of entries you are probably going to spend at least $500 on the prize.
Are a few hundred or even a few thousand blog comments worth $500? Not for me!
CONS
Ineffective
Can't enter by email
Can't enter by social media
Contest Friend
Contest Friend is our second free contest plugin. However, this one comes with a disclaimer.
That's right, this plugin hasn't been updated in over 2 years. If anything goes wrong, there's next to no chance of getting support.
Beyond that, Contest Friend is pretty good for a free giveaway plugin. The plugin is designed to grow your email list.
There are some cool features. The plugin randomly chooses the winner, but there is a weighting feature where people who share the competition on social media are rewarded with additional opportunities of winning.
There are a bunch of customization options to make the contest look good on the site.
Overall, it's a decent option for free. It might not do everything that you want it to do, but it could be a decent place to start to understand the mechanics of running a contest.
You just need to be wary of the lack of support.
PROS
Free
Easy to use
Customization options
CONS
No support
No refer a friend
No social entries
KingSumo
KingSumo is one of the big boys when it comes to contest plugins.
Coming in at $197 per site, it is not the cheapest plugin in the world but this is a one-off cost. Pay this and you will never pay another cent again.
The question is: is it worth it? What does it do?
Customize Emails
KingSumo sends an email to everyone who enters your contest.
This doesn't have to be a generic, bland template that comes from KingSumo themselves. They give you the opportunity to craft your own email.
You can also integrate this with your email provider (Aweber, Campaign Monitor, GetResponse, Mailchimp, ConvertKit and ActiveCampaign) so that any email addresses collected go directly into your email list.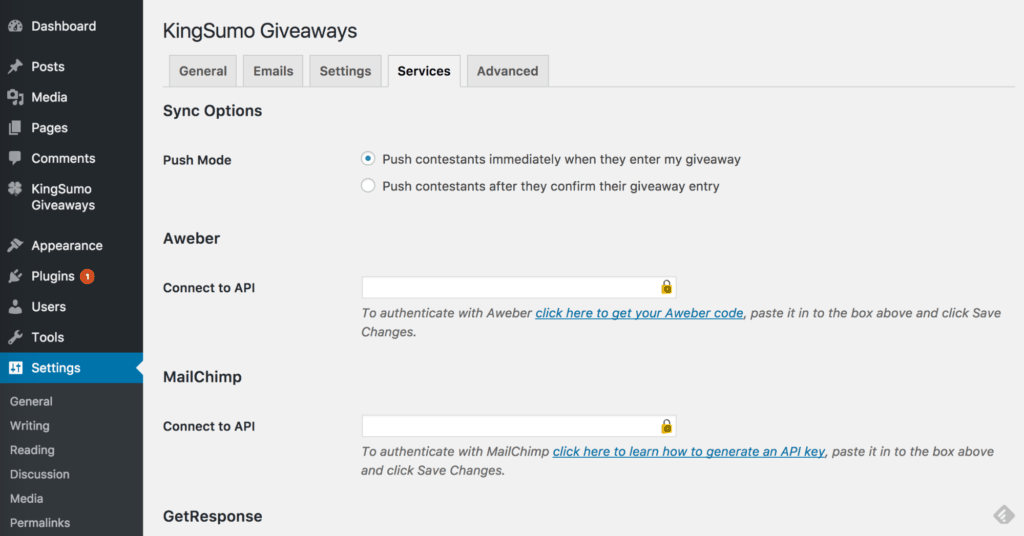 There are two benefits of this:
Save time and effort exporting and importing CSV files
Compliance
I hate dealing with CSV files and formatting everything correctly to upload data to email platforms, but the main benefit of the integration is compliance.
With the integration, there is an audit trail to prove to the email platform you use that the emails you have collected are legitimate.
Say the integration isn't in place. It is very easy for your email platform to reject the email addresses you re trying to load. If you do not have proof that proper procedures have been followed, they can assume you have bought the list or scraped a bunch of email addresses.
All of your hard work collecting hundreds or thousands of email addresses could be wasted.
Lucky URL (Refer a Friend)
With KingSumo you can foster virality.
This is done through the "Lucky URL". This is an affiliate link people can give to their friends. Any time someone enters the contest through their lucky URL, the sharer gets rewarded with additional entries. Hence, more chance of winning.
This little trick can easily double or triple the number of entrants that you receive.
Pat Flynn from Smart Passive Income manage to use this method to grow his email list by nearly 200k in 11 days.
Pricing
KingSumo has a one-off fee, and it is yours for life.
So, while it might look expensive one the surface, the more competitions you run, the cheaper it gets.
On top of that, the Personal License gets you access to all the features and functionality of the product. There are no upgrades or hidden costs.
PROS
Refer a friend feature
Email platform integration
Email entries
Social entries
Gleam
Gleam is slightly different to KingSumo in that you create a widget you can embed on a page rather than a complete landing page.
This has a couple of advantages. First, you can embed the contest on more than one page.
In fact, you can even embed your contest across multiple sites if you wanted to.
This can expand the reach of your competition if you can do some outreach to get sites with similar audiences to share the competition with their readership.
Gleam covers most of the features we see in both KingSumo and Rafflecopter. It has a similar refer a friend feature to KingSumo, social entries, email entries and you can also define an end date.
Social Entries
With Gleam, your user can enter a contest in the following ways:
​Subscribe on YouTube
​Follow on Twitter
Follow on Pinterest
Comment on the blog post
Follow on Instagram
Like on Facebook
Via Email (Paid Version Only)
Those aren't the only ways to earn entries though. There are a bunch of other ways to enter (as you can see below). Gleam also allows you to create custom methods of entry. This means that if, for some reason, the entry method isn't covered here, you can create your own steps that are necessary to complete an entry.
Pricing
With Gleam, there is a free option.
The major drawback with this, however, is that it doesn't allow you to capture email addresses. To do that, you must purchase the Pro version at $39/ month.
This defeats the point of the entire exercise. Our main goal is to use the competition to collect email addresses. In my view, they shouldn't even bother with a free version because it is essentially useless.
The good news is that (if you pay monthly) you're not locked into a contract. You're free to upgrade and download your plan as you please. If you want to run a competition every three months, you only need to pay the monthly subscription in the months you run the competition (as long as you remember to downgrade to the free version).
For me, I would probably run a competition on the Pro version. Capturing email addresses is too important not to pay the $39, especially when you can downgrade your plan if you're not using it.
There are no features in the Business that really jump out at me screaming that I need to upgrade.
If we break some of them down:
No gleam branding – not tha important
Customer HTML emails – we're already integrated with our own email platform
#hashtag photo imports – meh
There's just nothing grabbing me and forcing me to upgrade. From our point of view, this is great. We get the product for a cheaper price and don't miss out on anything important.
PROS
Refer a friend feature
Email platform integration
Email entries
Social entries
Rafflecopter
This one is kind of cheating because it is not actually a WordPress plugin.
In fact, Rafflecopter spits out a couple of lines of code that you have to embed in your site yourself.
Nevertheless, Rafflecopter is one of the most popular tools for giveaways out there so it would be remiss not to mention it.
To be honest, Rafflecopter does a lot of the same things as both KingSumo and Gleam.
You can do social entries, collect emails, and manufacture a degree of virality through refer-a-friend.
You can also customize the theme and beef up the design.
Pricing
There are three pricing plans for Rafflecopter:
The basic plan covers the core features: email entries, social entries and custom design.
This looks great on the surface, but for me it is not the best option.
To explain, it helps to look back at the ROI calculator.
ROI ($) = (No. of subscribers x Value per subscriber) – (Cost of plugin + cost of prize + cost of advertising)
Let's plug in some numbers:
Basic Plan
ROI = (100 x $10) – ($13 + $500 + $0)
ROI = 1000 – 513
ROI = $487
Premium Plan
ROI = (120 x 10) – (84 + 500)
ROI = 1200 – 584
ROI = $616
The point is that the biggest factor in increasing the ROI is the number of subscribers/ entrants and not the price.
While these numbers are plucked from thin air, I do think it is more than plausible the refer a friend feature will result in 1.2 times the number of entrants than the basic package without the refer a friend feature.
PROS
Refer a friend feature
Email platform integration
Email entries
cONS
Not a plugin
Expensive monthly fee
WordPress Giveaway Plugins: How Do They Compare?
| Plugin | Email Entries | Social Entries | Refer a Friend | End Date | Price |
| --- | --- | --- | --- | --- | --- |
| | 0 | 0 | 0 | 5 | 5 |
| | 5 | 0 | 3 | 5 | 5 |
| | 5 | 5 | 5 | 5 | 3 |
| | 5 | 5 | 5 | 5 | 2 |
| | 5 | 5 | 5 | 5 | 1 |
What Giveaway Plugin for WordPress Should You Use?
It really is a toss-up between KingSumo, Gleam and Rafflecopter.
For me Rafflecopter loses points simply by virtue of not actually being a WordPress plugin. It doesn't lose points for superficial reasons, it just makes it slightly more complicated to embed the competition within pages and posts if you cannot control it from a plugin or use shortcodes.
That leaves a two-horse race between KingSumo and Gleam.
In terms of features, it really is neck and neck. They also both look just about is good as each other (which is not great, Rafflecopter is actually a bit better on this front).
For me, the only way to split them is on price. This, however, is open to interpretation. The Gleam plan I recommend costs $39 per month whereas KingSumo costs a one-off $198. With Gleam, you can upgrade and downgrade your plan as you like.
So, it really comes to how often you are going to run competitions. If you are only ever going to run 1 competition, go for Gleam. It will cost $39 for that month and then you can cancel the subscription.
However, if you plan on running 5 or more competitions, use KingSumo. In this time, the one-off fee will become the more cost effective options.
In reality, the the three main plugins all do a great job and if you use any of them you have a great chance of running a successful competition.
This isn't a decision to spend too long agonizing over.