How much effort do you put into getting traffic?
If you're anything like me, you have spent hundreds hours building links to get traffic from organic search, you've created Facebook ads, Instagram ads and maybe even adwords.
You might even be slowly and surely building an email list with exactly the right people to buy what you're selling.
But, instead of working harder to get more traffic. Maybe your next step is to do more with the traffic you already have.
This is where landing pages come in.
Let's do the maths: 2022
Say you're currently getting 5,000 visitors per month with a 2% conversion rate.
It's a lot easier to get that conversion rate from 2% to 4% that it is to get increase the traffic from 5,000 to 10,000 (what you would need to increase the revenue by the same amount if conversion rates stayed the same).
Landing pages are standalone web pages, designed with a single task in mind – get the user to convert.
This could be anything from signing up to a mailing list, submitting a call-back request or actually parting with cash there and then by purchasing a product.
But, the question is, what's the best WordPress plugin for building landing pages?
Let's find out.
What Are We Looking For In A Landing Page Plugin For WordPress?
1. Independence From WordPress
Independence from WordPress = remove all WordPress features from the page.
Well, we want a landing page to be 'on-brand', it also needs to be independent from WordPress and your theme.
This is because the entire point of the landing page is to get people to convert. This is usually in the form of signing up for the mailing list.
To achieve as high a conversion rate as possible, we want to minimize the clutter or options we put in front of the user.
This means, no menus, sidebars, headers, footers or all the other junk we have on our sites.
What we want
​​​Remove all WordPress elements from the landing page
2. Elements/ Building Blocks
Elements/ Building Blocks = a set of pre-built options to create the landing page.
All of the plugins we feature work in more or less the same way.
There are a bunch of elements, and each page is made up of a combination of these elements.
It may be tables, image grids, forms, lead boxes, testimonials or countdown timers.
We're looking for a plugin that has a lot of options in terms of what the elements look like, how much we can customize them and what they are capable of.
It must also be easy to build the page from these elements. This means a drag and drop page builder.
What we want
An extensive collection of elements to build landing pages from
3. Templates
Templates = a selection of pre-built landing pages that are proven to convert.
In internet marketing, everybody copies everybody else. Apologies if I sound a little cynical but there's at least a degree of truth to this.
But the reason is a little bit more innocent than I'm making it sound – why reinvent the wheel?
Rather than starting from scratch, there are people out there who know what they're doing who have built landing page templates.
It would be a shame not to use them. Almost criminal.
We want a landing page plugin that has an extensive library of templates which cover all different scenarios and objectives.
What we want
An extensive library of landing page templates
4. A/B Testing
A/B Testing = is a method of comparing two versions of a web page or app against each other to determine which one performs better.
As I mentioned, it's all about conversion rate.
We're trying to squeeze every possible conversion we can from our landing page.
This means A/B testing.
You can't guess what works. I've tried. You'd be amazed at how wrong your instincts can be.
The solution? Test, test, test.
Test the color of any buttons. Test the message on the button. Test with a video and without a video.
Basically, keep testing your landing pages until the work you're putting in to optimize the conversion rate starts to show diminishing returns.
At this point, it's time to move on to something that will have more of an impact on the bottom line.
Anyway, back to the plugins. Our landing page plugin should make it easy to perform A/B testing.
This means either being able to perform A/B testing within the plugin itself or integrating with an A/B testing tool such as Optimizely.
What we want
A/B testing within the plugin, or
Integration with popular A/B testing tool
5. Value For Money
As always, price is a consideration. We're looking for a plugin that can do everything in this list.
In the case of landing pages, you can afford to spend a little bit more as it's easy to justify the return on investment.
You can see a direct correlation between the increase in conversion rate and the increase in revenue the business is bringing in.
Having said that, there are a lot of other cool things we'd like to be spending our profits on so we are not just going to throw money at the problem.
What Are The Best Landing Page Plugins for WordPress?
Qards
Designmodo was launched in 2010 to write about web design and web development.
Since then, they've developed from being a blog to selling items in their marketplace and selling their own products.
One of these products is Qards.
Qards is completely independent from WordPress. When you install the plugin you're literally working from a blank canvas. That is, unless you use a template.
Looking at some of the templates and some of the examples of landing pages that have been created in Qards, I have to say, they look great. There's also a marketplace that allows you to purchase additional templates or design elements to use within your landing page.
The plugin is easy to use and extremely stylish. Maybe it's a little style over substance in places.
In fact, in terms of usability, it reminds me a little bit of using Wix.
When it comes to the elements available to build your landing page, Qards has:
Cover
Image
Text
Feature
Grid
Menu
Footer
Subscribe
When it comes to A/B testing, Qards is not equipped to handle this themselves. However, there is a handy guide to show you how to setup A/B testing with Google Analytics in their documentation.
This is by no means perfect. It costs time and energy to set this up but at least they are aware it's an issue, and providing some kind of solution.
Finally, the price. Qards will set you back $99 for a single site license. This is a one off fee rather than a year long subscription.
Overall, I like Qards as an option. It does most of what we're looking for in a landing page plugin and does it with a bit of panache.
The doubts I have come with the lead capture ability, the ecosystem and the integration with email tools. It seems as though the only integration that is available is with Mailchimp. This just isn't quite enough.
CONS
Few integrations
No A/B testing
LeadPages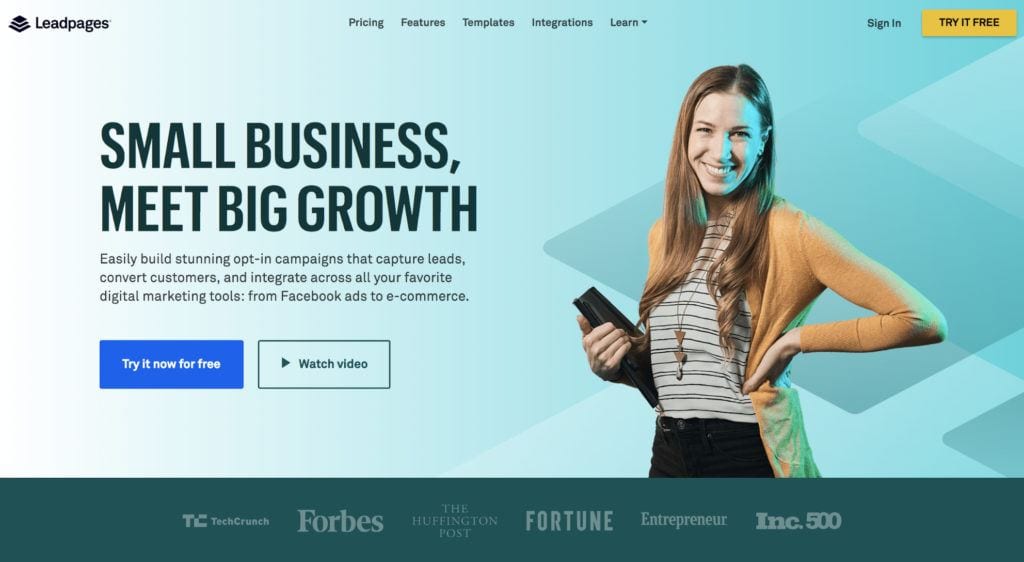 LeadPages is the standard bearer for landing pages. It's the plugin we all know.
Is it so popular because it's a big name or is it popular because it actually delivers?
Let's start with the independence from WordPress. Leadpages allows you to create a completely independent landing page that does not pull in menus, widgets, sidebars or any of the other clutter that comes with WordPress.
When it comes to the elements that are available, it is quite comprehensive. There are:
​Countdowns
Forms
Progress bars
Lead capture forms
Once you know what the LeadPages lightboxes look like for capturing leads, you will notice them everywhere.
This can be integrated with:
​ActiveCampaign
​AWeber
​ConvertKit
Drip
GetResponse
GoToWebinar
Infusionsoft
Mailchimp
Ontraport
Salesforce
WebinarJam
EverWebinar
And you can find supporting documentation on the LeadPages site to talk you through the process.
There's also a large template library within LeadPages.
While I'm no designer, I think some of them look pretty great. These can be filtered by industry (e.g. ecommerce, photography, travel) or by campaign type (checkout page, coming soon page, sales page).
Interestingly, you can sort the templates by conversion rate. LeadPages obviously collects conversion data on the landing page templates that have been used and feeds this back.
However, I would take these conversion rates with a pinch of salt.
Remember, these are just templates. People edit them heavily with their own layout, text, images and just about everything else you can think of.
This links to our next point – A/B testing is included as part of LeadPages.
This allows you to tweak elements for maximum conversion using data rather than gut feeling.
So far, so good. The final piece of the puzzle is the price. This is where LeadPages stumbles in my eyes.
The cheapest plan will set you back $25 per month but this does not include A/B testing. If you want that, you will have to purchase the $48 per month package.
One point to note is that these prices are for when you purchase annually. If you want to pay monthly, these prices jump to $37 and $79 per month respectively.
At this point, LeadPages is looking pretty expensive.
It's a shame such a good product is so expensive. But, if people are willing to pay it then you can't blame LeadPages for charging it.
It's a good product and they have the advantage that landing pages can show a direct ROI. This makes it a lot easier for marketers to justify the spend to their boss or even just in their own heads.
Thrive Architect
Thrive Architect is not a landing page tool per se. It's a site builder but it can be used in isolation as a landing page tool if you don't want to use it across the whole site.
It's on this list because the Thrive eco-system is built for conversions. They have:
Thrive Architect to build pages
Thrive Ovation for testimonials
Thrive Leads to capture email addresses.
Each tool on its own performs well, but when you combine the three they start to become really effective.
But back to Architect.
Firstly, it's possible to start with a completely blank page in Thrive Architect. We actually built our sales page using it.
It's clean. No navigation. No header. No footer.
The user can either buy or leave. There are no distractions.
Thrive Architect is designed to build entire sites rather than just landing pages so it has all that you would need for a landing page plugin plus more.
As I mentioned earlier, these are just the basic building blocks. Once you add Thrive ovation – in my opinion the best testimonial plugin out there – and Thrive Leads, it becomes a formidable offering purely focused on driving conversions.
There are no templates in Thrive Architect, but there are templates in Thrive Leads.
Don't get confused through. The templates in Thrive Leads are for pop-ups and lightboxes, not landing pages.
This pattern repeats itself when it comes to A/B testing.
With the Thrive Headline Optimizer you can easily A/B test your headlines, with Thrive Leads you can A/B test your light boxes/ lead boxes but with the landing pages themselves, the method defined in Thrive's documentation requires messing about with Google Analytics and goals.
It's just that little bit more complicated than LeadPages.
Thrive Architect is available for a one off price of $67.
However, throughout I have also talked about Thrive Ovation and Thrive Leads.
In order to get the best out of Thrive, I feel that you need to get both of these plugins as well.
This makes a Thrive membership the best option.
A Thrive membership will cost $19 per month if paid annually or $30 per month if paid quarterly.
Overall, I like the Thrive membership option. It's especially useful if you're going to use Thrive Architect as the page builder for your entire site. If you don't do this, it starts to look a little bit pricey.
Just remember to relate your spend back to your ROI. If you're selling a big ticket item, one additional sale per month might cover your costs. Then it's a no-brainer.
PROS
Thrive eco-system built for conversions
Lots of elements
CONS
No landing page templates
No built in A/B testing
OptimizePress
OptimizePress is not trying to position themselves as an out and out landing page builder, but more as a site builder..
However, there's a strong emphasis on landing pages and sales pages in their marketing material.
Like he other plugins we've looked at, OptimizePress allows you to create a landing page that's completely independent from the other WordPress pages, menus, etc.
It has all the same basic elements as Thrive, LeadPages and Qards on a basic level. There are slight differences here and there but the idea behind them is basically the same.
The issue with OptimizePress for me is the whole process is not quite as smooth as these other tools.
You can't edit the text inline and while it is pretty straightforward to create nice looking pages, it is just easier on other plugins.
There are a number of templates either available for free or to purchase from the OptimizePress Marketplace.
Just like Thrive, OptimizePress do not offer A/B testing on their landing pages. But, they've got documentation on their site outlining the process to with Google Analytics.
In terms of price, OptimizePress will cost a one-off fee of $97 for a three site license.
Overall, I am not overly impressed by OptimizePress.
It feels like a dated version of Qards or Thrive Architect to me. If you look at the raw numbers (in terms of functionality) it performs relatively well but, for me, the experience is not great.
PROS
Lots of elements
Templates
CONS
Poor experience
No A/B testing
WP Landing Pages
WordPress Landing Pages was designed with inbound marketing in mind. The whole point of the plugin is 'to convert more of your passive website visitors into active leads or email list subscribers.'
The creators say WP Landing Pages functions as a standalone plugin but it ties in well with some of their other plugins – WordPress Calls To Action and WordPress Leads – to provide additional functionality.
This is promising. It seems to be an ecosystem like Thrive.
However, this is about as positive as I can be with WP Landing Pages. It is just so basic.
To being with, you don't get live previews of your changes. In order to see your changes, you need to press the 'Update All' button, wait a few seconds while it spins away, loading up the changes and see what they look like.
It is just unusable.
There are very few elements. There are no templates. There's no A/B testing.
The only redeeming feature is that it is free. To be fair though, you'd have to be pretty brazen to try and charge for this plugin.
CONS
Slow
No templates
No A/B Testing
WordPress Landing Page Plugins – How Do They Compare?
| Plugin | Independence | Elements | Templates | A/B Testing | Price |
| --- | --- | --- | --- | --- | --- |
| | 5 | 3 | 3 | 1 | 4 |
| | 5 | 4 | 5 | 5 | 1 |
| | 5 | 5 | 2 | 2 | 3 |
| | 5 | 3 | 5 | 1 | 4 |
| | 5 | 1 | 0 | 0 | 5 |
What Landing Page Plugin For WordPress Should You Use?
I am going to rule out OptimizePress and WP Landing Pages immediately. I don't particularly like either of them.
This leaves it between Qards, Thrive Architect (membership) and LeadPages.
As a standalone landing page plugin, ​LeadPages is the best option but it comes at a price.
Thrive Architect is a great option if:
You plan on using the page builder to build your entire site
You're going to use Thrive Ovation
You're going to use Thrive Leads.
If you're looking for a cheaper alternative than these two, Qards is credible but it doesn't do everything that you would want it to do. And, when you look at what it does do, it doesn't do it quite as well as Thrive Architect or Leadpages.
So, to sum up: it's a toss up between LeadPages and Thrive Membership.
If you can afford it get LeadPages.
If you are going to build your entire site, get the Thrive Membership.
We are sorry that this post was not useful for you!
Let us improve this post!
Tell us how we can improve this post?